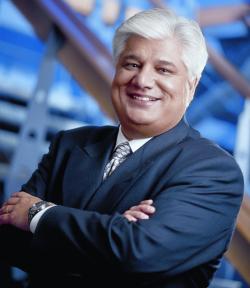 Mike Lazaridis, O.C., O.Ont., FRS, FRSC, is Managing Partner and Co-Founder of Quantum Valley Investments (QVI), which he and Doug Fregin established in Waterloo. In March 2013, they launched QVI with $100 million to provide financial and intellectual capital for the development and commercialization of quantum physics and quantum computing breakthroughs. QVI aims to help transform ideas and early-stage breakthroughs into commercially viable products, technologies, and services. It is Mr. Lazaridis' latest venture in more than a decade's work aimed at creating a "Quantum Valley" in Waterloo by bringing the world's best minds in physics, engineering, mathematics, computer science, and materials science together to collaborate on cutting-edge quantum research.
In 1984, Mr. Lazaridis founded Research In Motion (now BlackBerry) where he invented the BlackBerry and created the smartphone industry, and built Canada's largest global tech business. Mr. Lazaridis served in various positions including Co-CEO and Co-Chairman  (1984-2012) and Board Vice Chair and Chair of the Innovation Committee (2012-13).
Mr. Lazaridis is the Founder and Board Chair of Perimeter Institute for Theoretical Physics. He also founded the Institute for Quantum Computing, where he serves as Chair of the Board, and the Quantum-Nano Centre, both at the University of Waterloo. He has donated more than $170 million to Perimeter, and more than $120 million to IQC. In addition to this, his generous support for a new technology-focused management institute at Wilfrid Laurier University resulted in the business school being renamed in his honour as the Lazaridis School of Business & Economics.
Among his many honours, Mr. Lazaridis is a Fellow of both the Royal Societies of London and Canada and has been named to both the Order of Ontario and the Order of Canada. He was listed on the Maclean's Honour Roll as a distinguished Canadian in 2000, named as one of TIME's 100 Most Influential People, honoured as the Globe and Mail Nation Builder of the Year in 2010, selected as the 2013 Visionary of the Year by the Intelligent Community Forum, and awarded the Ernest C. Manning Principal Award, Canada's most prestigious innovation prize.
Mr. Lazaridis holds an honorary doctoral degree in Engineering from the University of Waterloo (where he formerly served as Chancellor), as well as a Doctor of Laws from McMaster University, the University of Windsor, Laval University and the University of Western Ontario. In addition to his many professional and personal accomplishments, Mr. Lazaridis won an Academy Award and an Emmy Award for technical achievements in the movie and TV industries for developing a high-speed barcode reader that greatly increased the speed of editing film.  In 2017 Mr. Lazaridis was inducted into the Consumer Technology Hall of Fame, recognizing him as a visionary and pioneer of the consumer technology industry.
Learn more: